Hanson Guitars: background info, QC and Online Purchases
About us.
Hanson Musical Instruments began as a company primarily winding bass guitar pickups for Lakland Musical Instruments. Lakland co-owner and Chief Operational Officer John Pirruccello recruited his brother Bo to develop a line of bass pickups custom tailored for Lakland basses. Paying homage to their family name on their mother's side, Hanson Pickups was born. After several years of engineering research and development, numerous bass pickup designs, including quad-coil pickups, traditional 4 and 5 string single-coils for J and P bass, the Lakland ChiSonic and other "hybrid" models, were developed by Hanson for Lakland. Soon After, John and Bo expanded development to guitar pickups including P90s, strat and tele, and various hum-canceling designs -with great results. Based on what they felt was an exceptional sounding P90 pickup, an electric guitar prototype was developed. This prototype eventually became the "Cigno". John and Bo then produced subsequent guitar models based on some of their other pickup designs. Suddenly, Hanson Guitar Co. was born. To keep these models at affordable price points, Hanson recruited the same manufacturing facility producing Lakland's Skyline Series. Great care was made to replicate the work John and Bo did in Chicago to achieve precise construction tolerances, electrical readings, tone and quality. The results are what you see on this site, custom shop designs, boutique pickup tonality, and working musician prices!
QC - Quality Control.
In our Chicago shop, every Hanson Musical Instrument is examined, tested, adjusted, and shipped out according to our standards for sound, playability and beauty. Each of our guitars, like all instruments, is an individual piece with it's own character. Our job is to make sure that each one leaves our shop with a proper setup including optimal neck tension, action, fret heights, pickup heights, bridge tuning, properly slotted and lubricated nut, and more; basically, all the things that musicians traditionally have to do to a new instrument upon receipt. As musicians ourselves, we have gone through the process of purchasing new guitars over and over again. The shortcomings of many of these were usually fixable, but would cost time and expense; just to get something brand new correctly set up! With that in mind, a properly set up, tuned and adjusted instrument, should only require seasonal truss rod adjustments (where the humidity changes) to maintain it's original playability. This is how we strive to send our instruments out into the world. We are available by phone and email to assist in such adjustments should they be necessary.
Online Purchases.
We understand that online purchases of musical instruments can be a leap of faith. Whether you order online or through an authorized Hanson dealer, we are available for special requests with regards to your personal setup, weight requirements, and string brands/gauges. We are happy to get your guitar personally ready for you right out of the box. Should you not be happy with your purchase, just let us know within 3 days of receiving it to arrange a return or exchange (online purchases only, dealers may have their own return policies). We understand that as a small company, we need to work harder to earn your respect, and your business.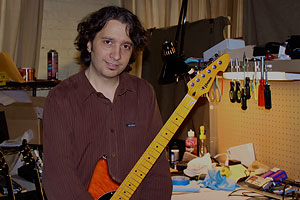 John Pirruccello (JP) Hanson Musical
Instruments Co-Founder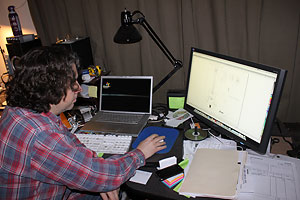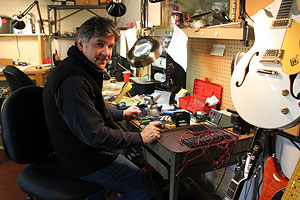 Bo Pirruccello Hanson Musical
Instruments Co-Founder